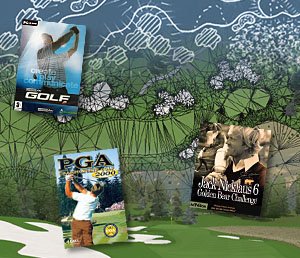 elcome to my golf homepage! It is dedicated to the art of computer golf course design using game packages such as Jack Nicklaus 6, PGA 2000, Links 2003, and Tiger Woods 2005. This is a hobby I have enjoyed immensely over the years and I wanted to share what I have created. Along the left side of this page you will find several buttons that will lead you to other parts of this website. This includes pages about the courses I have designed for different golf games, design tips, and links to other related websites. Please feel free to contact me if you have any questions. Thank you for stopping by and I hope you enjoy the site.
This site was last updated on October 15, 2004.

My apologies for the LONG drought in updates to my website. Work and family life have kept me extremely busy over the past couple of years and there wasn't much time for course designing. Thus, there wasn't much news to report here, until recently.
As you may have noticed, the website has been completely reworked. I have ditched the old frames design and have gone back to a table based layout to keep things clean and simple. I hope you enjoy the new design. Just about every page has been updated, so please take a look around to see if anything interests you. Also, please let me know if you notice any problems with the way the site displays on your system.
I have released a new course for TW2004 called Beartooth Pass. You can check out the course's page here for more information and links to download it.
There is a new golf game in development named CustomPlay Golf that features a course architect. I have a page with more information about it that you can find here.
The links page has been weeded out and revamped. I have removed old links and reorganized things so that it will hopefully be easier to find other design related sites that may interested you.
I am no longer doing a mailing list to inform people of updates to the website. With the major problem of spam, I did not want to add to the e-mail "noise".
If you are interested in taking a look at older news, please go to the archive section.
Activision and Jack Nicklaus 6: Golden Bear Challenge (JN6) are trademarks of Activision, Inc. All rights reserved. Accolade, Jack Nicklaus Signature Edition Golf and Course Design (JNSE), Jack Nicklaus 4 (JN4), and Jack Nicklaus 5 (JN5) are trademarks of Accolade, Inc. PGA 2000 is a trademark of Sierra and Headgate Studios. Links 2001 is a trademark of Microsoft. All rights reserved. The names and course designs for Rolling Evergreen, Saguaro Canyon, Oceanview Golf Links, Pinecliffe, Beacon Ridge and The Preserve are © Copyrighted by Brian Silvernail.